I'm super excited to have Ale from How I Cook as a guest post today! She's posting one of her
cooked rice
recipes, Rice Cakes!

Did you catch
Ale on Good Things Utah
last week? WOW! Isn't she creative? That
Brazilian Meatloaf
is killer- I can't wait to try it on my family. Thanks, Ale! Be sure to read to the end of this post, Ale & How I Cook are sponsoring a giveaway for YOU- the Savvy Sister Shops readers!


Rice Cakes

1 egg

½ c milk

2 c cooked rice

½ c cut ham slices

¼ c cut pepperoni

¼ c corn

¼ c cut tomatoes

¼ c onions (diced)

2 T green onions (diced)

½ c cheese (either cubed or sliced)

Pepper to taste

1 t baking powder

2-4 T flour

In a blender, add egg, milk and rice. Blend it until it mixes well and most of all the rice are dissolved. It will have a thick pancake like texture.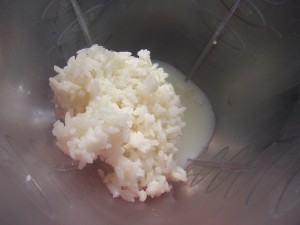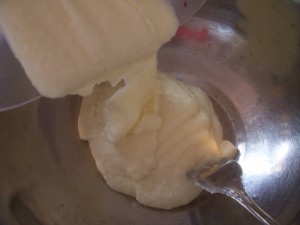 Transfer it to a mixing bowl and add the rest of ingredients except the flour. Mix in 1 Tablespoon of flour at a time until you get the correct consistency. It will be thick enough to hold its shape in the spoon and not run out. It will not be thick enough to roll in your hand.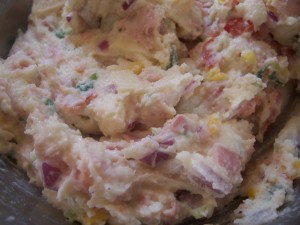 In a frying pan, heat some oil (enough to cover the bottom of the pan). Shape the rice cakes with a spoon and drop them into the oil.




Fry both sides until they are golden brown.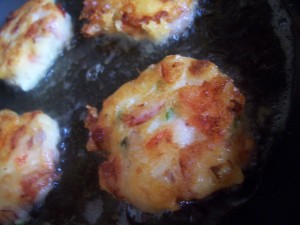 Serve them with your favorite sauce.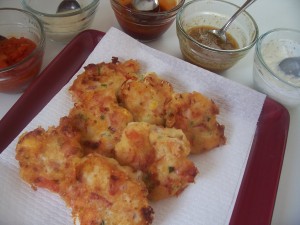 Mixing ideas: ham, pepperoni, corn, onion, cheese, olives, broccoli, green peppers, tomatoes, turkey, bacon, carrots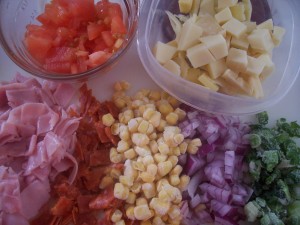 Sauce ideas: BBQ, Honey Mustard, Mayo Dill, Fry Sauce, Ranch, Yogurt Sauce, Marinara, Sweet and Sour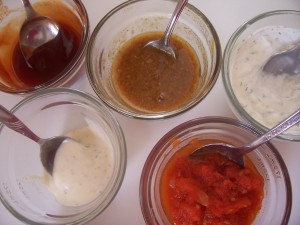 BBQ: Same amounts of ketchup and brown sugar. Heat for about 1 minute in the microwave. Mix well.

Honey Mustard: 1 measure of honey to 2 measures of mustard (I used 1 T honey and 2 T of Dijon Mustard, but you can use any mustard of your liking)

Mayo Dill: 1 T mayo, 1 T sour cream

Okay, I love all the ideas for the sauces and mixing ingredients, these are sweet, Ale- thanks!
And now, for the Savvy Sister Shop Giveaway sponsored by How I Cook!

A Set of 6 Prep bowls!

I love these prep bowls. You can do so much with them. As you saw on the recipe above, you can use them to serve sauces. You can save time by preparing the sauces ahead of time or you can use the prep bowls to store prepared ingredients. The prep bowls are also great for melting butter, as well as chocolate, in the microwave. Bake mini cakes, corn muffins, store leftovers and so much more! Prep bowls are made of glass and they measure 1 cup to the rim. Bowls are dishwasher, freezer, microwave and oven safe up to 350°F; lids are dishwasher-safe.

Thanks so much, Ale!

Okay, ladies- in order to win the set of 6 prep bowls, you can enter in 4 ways:

1. Be a fan of Savvy Sister Shops on Facebook.

2. Be a fan of How I Cook on Facebook.

3. Leave the comment "Prep Bowls!" on the How I Cook Facebook page.

4. Leave the comment "How I Cook" on the Savvy Sister Shops Facebook page.

So that's it- be the fan of 2 pages and leave a comment on each page. If you get the comments mixed up, don't worry, it will still count! Please just leave 1 comment on this post this time with your name- the same name you have listed on Facebook, so we can check our fan pages!
Good luck! You have until next Monday, July 19 at 4 p.m. to complete the 4 entries- EASY, right? One lucky winner will have the prep bowls in no time!